Police deny camera call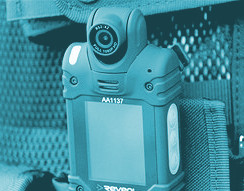 Victoria Police has rejected a call for closer scrutiny of body-worn camera footage.
A report by the Victorian Auditor-General Andrew Greaves shows officers have been turning on their cameras 83 per cent of the time they are required, meaning over 16 per cent of police interactions go unrecorded.
The audit also found a lack of tracking of officers' consistency and compliance in activating the cameras.
It said that the missing footage could weaken evidence in investigations and prosecutions, as well as reduce transparency in complaint investigations, potentially leading to "reputational damage to Victoria Police".
Victoria Police accepted or accepted in principle six out of eight recommendations made by the Auditor-General relating to the capture and management of camera footage.
But it rejected a recommendation by the Auditor-General to develop a policy for reviewing recording logs.
Victoria Police said this would not be needed because the report found "no instances identified of BWC (body worn camera) footage being mishandled".
Victoria Police says it relies on "clear guidelines and expectations" about when and where the cameras should be activated, and "mandatory reporting requirements if a camera is muted or stopped prematurely".
The force claims all footage is subject to random monthly reviews "to ensure recordings have been started and stopped in accordance with protocols".
Premier Daniel Andrews says he does not see the news of the 16 per cent missed recordings as a "failing".
"I'm sure we'll see improvements and when next these matters are reported on that number will have come down further," he said.
Police Association Victoria head Wayne Gatt described the statistics as "actually really good".
Lawyer Jeremy King says the police response was "problematic".
"Police have total control over body-worn camera footage," he told the ABC.
"They film it, they retain it and only they can really provide access to it.
"Given that every single police officer has a body-worn camera on them now, it's incredibly important that there is independent oversight of the way that that footage is retained and utilised by Victoria Police."
He said there are no real punishments for officers should they do the wrong thing.
"[It] doesn't really provide sanctions for police deliberately not turning on their camera or inappropriately turning on their camera or turning off their camera," Mr King said.
"That remains a real live issue."
The police association has called for more resources to support the cameras and the extra administrative work required to process and prepare the footage.