Polaris pulling out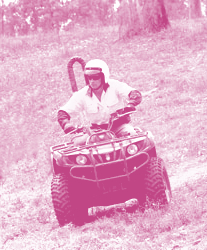 Quad bike manufacturer Polaris is leaving Australia over new safety laws.
New laws requiring mandatory factory-fitted roll bars are pushing big manufacturers out of the Australian market.
The Federal Government gave manufacturers two years from October 2019 to comply with new rollover protections legislation, forcing them to affix rollover safety stickers to new quad bikes within 12 months and install roll-over bars as standard within 24 months.
Government stats show that since 2011, an average 16 people a year have died and about six people a day are hospitalised because of quad bike crashes.
Polaris will stop selling quad bikes and All-Terrain Vehicles (ATV) in the Australian market this year, and Honda intends to do the same in 2021, when the new laws take full effect.
Polaris Australia and New Zealand managing director Alan Collins said it was an economic decision.
"The market is moving very quickly from ATV to side-by-side products anyway," he told the ABC.
"It's a much better fit for us going forward to bite the bullet sooner rather than later."
Mr Collins said it was not about the cost of fitting rollover safety measures.
"We actually believe they cause as many injuries as they save," he said.
"There's no reliable science or data or evidence that we've seen that actually demonstrates that these devices offer any inherent safety value at all."