Locals vocal over tunnel dump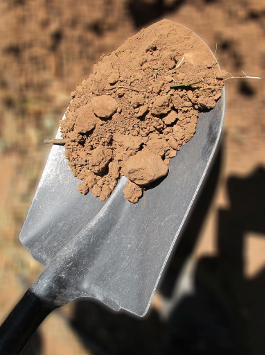 Over a thousand Victorians have turned out to protest plans to store contaminated soil in a former coal mine.
PFAS (poly-fluoroalkyl substances) been found in soil near the site of the West Gate Tunnel Project in Melbourne, prompting debate over where the contaminated soil should be stored.
The Government is looking at a plan to store it in Maddingley Brown Coal Mine, just 5 kilometres from the town centre of Bacchus Marsh.
The Calleja Group — which owns the former mine — wants to build a soil-processing facility that can run around the clock for up to two years.
Maddingley Brown Coal says the site is already a designated state-significant waste hub and is licensed to receive industrial waste.
But the Bacchus Marsh Community Coalition is demanding further consultation and information from the State Government and the project builders Transurban.
The community group says the Parwan Creek runs directly through the Maddingley Brown Coal site and on into Werribee River, a major food-producing system.
The dump site is also less than 500 metres from Bacchus Marsh Grammar School and adjacent to farming lands.
Countries including Germany, Britain and the US have accepted the association between PFAS and testicular cancer, kidney cancer, thyroid disease and thyroid cancer, but Australia officially denies this link.
PFAS is also Australia's largest ever class action, in which over 40,000 people who live and work on land contaminated by PFAS chemical compounds are suing the Australian Government.
The mine owners say their proposal would see soil unloaded in a covered area and sent for laboratory testing, and disposed of in a purpose-built containment cell, or landfill.
The company has pledged to dispose of any soil unsuitable for the site at an approved facility, overseen by an Environmental Protection Authority-accredited environmental auditor.
The company said it would pay the Moorabool Shire Council for road maintenance and upgrades if needed.
Transurban says talks are still ongoing with a number of soil disposal facilities.
"The project parties and Maddingley Brown Coal continue to engage with the local community and relevant stakeholders to hear their feedback and answer their questions about Maddingley Brown Coal's proposal," Transurban said.
"Any facilities that are considered will have stringent environmental controls in place to protect the community.
"No decisions have been made yet.
"A number of approvals would be required, including from the EPA Victoria."
Premier Daniel Andrews said Bacchus Marsh Grammar is already located next to a brown coal mine.
"Let's not get ahead of ourselves — safety is very important and the process we are going through is not about compromising safety, it's about guaranteeing safety.
"The final decision that will have to be made at some point about the location of that soil, any site that's chosen will be maintained and designed and built to the highest standard.
"We are dealing with this challenge because we refuse to take shortcuts on safety, whether it be for those who are building the project or indeed communities that may well be adjacent to purpose-built facilities that would meet the highest standards."