COVID causes QLD shortage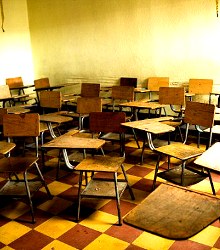 Queensland schools say COVID-19 outbreaks have left them facing serious teacher shortages.
According to Queensland Health, 6,083 school-aged children have tested positive to COVID-19 in the past week.
The Department of Education says ongoing cases will occur in schools throughout the state.
"Schools will make local decisions to accommodate any staff absences and ensure students continue to learn and remain engaged," a spokesperson said.
Independent Education Union branch secretary Terry Burke has told reporters it is a seriously tricky time.
"There are quite substantial challenges," he said.
"Schools are having to make all sorts of alternative arrangements to be able to cope with their staffing needs to keep the school operating."
Some schools have had to return to a mix of school-based education and homeschooling for senior students, and the flu is now sweeping through schools too.
"There is certainly an emerging wave of influenza in schools," he said.
"Students and teachers are sick, whether it's COVID or whether it's the flu."