Work, Health & Safety Manager - [Archived Advertisement]
First listed on: 21 September 2020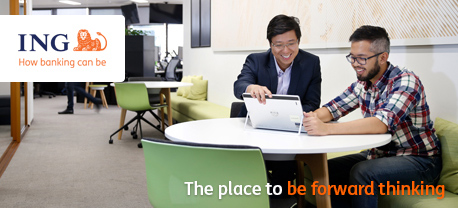 Work, Health & Safety Manager
The Wellbeing of our employees has never been more important than now! The WHS role at ING is a strategic function that empowers the WHS Manager to create meaningful change through a collaborative and consultative approach with the business units.
We're looking for a dynamic and respected WHS Manager to help us drive our WHS Strategic focus. This is a permanent, 4 day a week opportunity where you will support and mentor a small close-knit team. You'll also take point in the implementation of ING's Safety Management Framework to ensure we provide a healthy, safe and injury free environment to all our staff, contractors, visitors and customers.
As the face of WHS, you'll aim to foster and sustain a positive safety culture. Additionally, you'll be promoting, advising and coaching employees at all levels of the organisation with regard to WHS legislative requirements.
Furthermore, we're delighted with the focus we've made on the wellbeing of our team, especially during Covid-19. We're conducting Wellbeing sessions on a regular basis, covering everything from hip hop, to developing resilience and nutrition. Your role on expanding and driving new initiatives is critical to our ability to constantly enhance our employee's wellbeing experience.
What are you going to do? You will be…
Driving improvement in the design and effective implementation of the Safety Management Framework
Working collaboratively with line managers and employees ensuring effective consultation on WHS matters to drive a safety focused culture
Providing specialist advice, guidance and leadership covering specific areas of WHS, including hazard and incident investigation, application of preventative measures and safety inspections to identify workplace hazards
Ensuring organisational compliance with WHS and workers compensation legislation
Aligning with the Future of Work model, ensuring a sustainable safe working environment encompassing employees working remotely or from within the office, including ergonomics and mental health programs
Leading regular monthly WHS Working Groups meetings
WHS Performance reporting including Board papers
Educating the organisation's workforce on health and safety initiatives and standards.
What are we looking for?
Certificate IV or higher in WHS
Experienced Senior WHS leader who has experience in originating WHS frameworks
Demonstrated experience with hazard/incident investigation and risk assessment processes
A Wellbeing Champion with experience in developing wellbeing initiatives aligned to the organisations priorities
Proven experience of people management, coaching and mentoring
A strong team player, with a consultative work style, who shows initiative and able to work pretty autonomously
Exceptional verbal communication, report writing skills and ability to build a compelling story, conveying the importance of Wellness
Workday knowledge an advantage
About Us
At ING, we want to make life simpler and more worthwhile – for everyone who banks with us, for the people who work with us, and the community at large, too.
When you come to work at ING, you're joining a team where individuality isn't just accepted, it's encouraged. We've built a culture that's fun, friendly and supportive – it's the kind of place where you can be yourself and make the most of whatever you have to offer.
We give people the freedom to take risks, think differently, take ownership of their work, and make great things happen. We're here to help you get ahead. And with our global network, there's plenty of scope to take your career in new directions, perhaps even ones you've never considered.
People of all ages, sexual orientations, cultures and backgrounds are welcome to apply – likewise if you're an indigenous Australian, or you're living with a disability, or you have family or caring responsibilities. We would also be open to flexible working applications for this role, please just let us know as part of your phone interview.
Sound like the kind of place you'd feel at home? We'd love to hear from you.
(One last thing, ING operates a direct talent sourcing model. So no agency introductions, please.)
Location:

NSW - Sydney
Work Type:

Part Time
Category:

Continuous Improvement
Frameworks/Systems
Incident Investigation/Management
Management/Supervisory
Policy/Procedures
Regulatory/Compliance/Legal