Truck sweep finds 2000 defects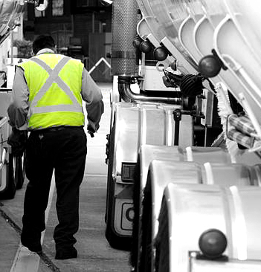 A police crackdown on truck safety across Australia has seen over 2000 defect notices issued.
Australia's largest ever heavy vehicle compliance operation - Operation Rolling Thunder – saw authorities from NSW Police, NSW Roads & Maritime Services, Victorian, Queensland, ACT and South Australian Police Forces stop and check over 5000 trucks across the country.
After the two-day sweep, 26 drivers tested positive for drugs and over 2000 defect notices were issued for a range of offences.
Meanwhile, authorities have laid out some ideas to make roads safer.
The number of fatal incidents involving trucks has fallen in the past decade, but even so about 200 people die in fatal trucking crashes each year, while close to 1,700 people end up hospitalised due to heavy vehicle crashes.
Roger Weeks from NSW Roads and Maritime says it would help if other drivers were more aware around trucks.
"In the majority of accidents involving a truck, it's actually the other driver who is at fault," Mr Weeks has told reporters.
Toll Group Managing director Michael Byrne says efforts should be made to fix inconsistencies across different states in regard to speed limits, fatigue laws and blood alcohol levels.
"In Western Australia you can make a man or a woman drive for 17 hours a day. In the Northern Territory you can make a man or a woman drive for 18 hours a day," Mr Byrne said.
"You can't make people sit in the office and do that."
In a recent letter to the Prime Minister, Mr Byrne says he has called for consistent road rules as well as a debate about whether the standard 12 hours at the wheel is safe.
"In a lot of other countries, that's too much," he said.
Transport safety expert Professor Ann Williamson says truck drivers are working too long and for too little pay.
"Any company, any driver who's working to those hours will be tired and will be at higher risk on the road," she said.
"The evidence is really quite strong that there is a link between how you pay people and how they behave in the workplace.
"It probably will mean that freight is going to cost us a little bit more, but I think it's wrong that the transport industry, and long-distance truck drivers in particular are really bearing the brunt."
Additionally, drivers and other authorities say poor-quality highways and a lack of rest areas makes it hard to manage fatigue.