Shirt stoush in NSW court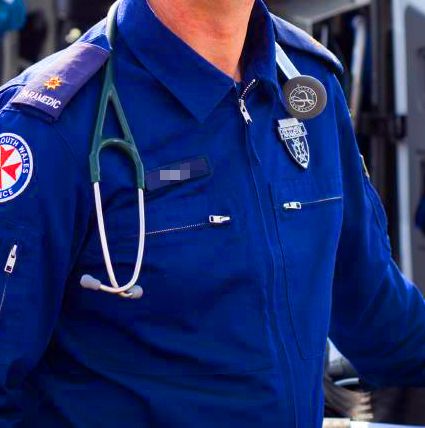 Two paramedics unions have faced the Industrial Relations Commission for telling members to shed parts of their uniforms during recent heatwaves.
The Australian Paramedics Association (APA) and the Health Services Union NSW (HSU) were taken to court by NSW Ambulance after they advised paramedics not to wear long-sleeved over-shirts during soaring temperatures across NSW.
APA NSW president Steve Pearce said he had received complaints about the heavy uniform, with some paramedics becoming soaked in sweat "from collar to waist" in the polyester blend, and even leaving them with rashes and skin irritations.
"The uniform problem has been a problem for over 12 months," Mr Pearce told Fairfax.
"It's overheating members. We need either different clothing or a different fabric of the same clothing - something that insulates you but doesn't overheat you."
The APA issued two member updates - one during November and another in early 2017 - recommending paramedics forgo the heavy top layer of their uniforms, while the HSU issued a similar recommendation in January.
"We're not suggesting paramedics be issued board shorts, but the fact of matter is you have to be able to function in 40 degrees," said HSU NSW secretary and former paramedic Gerard Hayes.
"It's hard to do that in uniforms that are heavy and not breathable.
"Cost of uniforms has come before the practicality of the wearing of them. It's being played out in cold and hot climates."
NSW Ambulance industrial relations representative Brooke Craig told Commissioner Peter Newall that having paramedics attend an accident scene in plain undershirts increased the risk of getting hit by a car, or of not being identified by other emergency services.
She also told the IRC court that long sleeves and collars provided sun protection, and provided for paramedics that are not always outside, such as in air-conditioned homes or cars.
"[The unions] are actually putting their members at risk by giving them this particular direction," Ms Craig said.
"Paramedics are travelling around in a Mercedes-Benz vehicle that has very good air-conditioning."
She accused both unions of thwarting dispute resolution procedures by instructing their members to wear their undershirts.
Mr Pearce said paramedics could still be easily identified while wearing their plain shirt with an Ambulance-branded fluoro vest, cap, and name tag.
Commissioner Newall strongly recommended that all paramedics cease wearing the plain, short-sleeved undershirts, and wear their button-up shirt or zip-up overshirt "as a matter of discretion".
He said these options provided an "immediate, recognisable" sign that the person is a paramedic, especially when dealing with patients "not necessarily thinking or acting rationally".
"I'm not at all satisfied that wearing a monochrome t-shirt, even with a hat and pants, will satisfy that," Commissioner Newall said.
He agreed that the collarless t-shirt was "unsafe" in the intense sun, despite Mr Pearce's claim that paramedics were supplied with plenty of sunscreen.
"I don't take lightly the comfort of people tasked with helping us, especially with this current weather," Commissioner Newall said.
"But I take above comfort the presence of safety."
All three parties will meet in coming days to resolve the dispute.