Palmer's plays laid bare
Print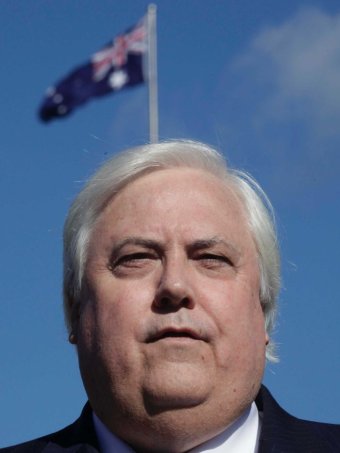 Administrators say Clive Palmer's Queensland Nickel made "significant" uncommercial transactions for the benefit of its directors before it collapsed.
Voluntary administrators FTI Consulting have released their report into the company's behaviour ahead of a creditors meeting next Friday.
It is understood that the money-holders will be urged to liquidate the cash-strapped company.
FTI's findings reveal that directors - or "persons … whom may have acted in the capacity of a director" – could be in contravention of corporate law, "as well as their fiduciary and common law duties".
The administrators say they found "significant transactions in value and in quantum entered into by QN that appear to be both uncommercial and director-related transactions. Those transactions could be recovered in a liquidation scenario".
Mr Palmer has not formally held the title of director since February last year, leaving his nephew Clive Mensink as sole director.
However, repeated media investigations have shown Mr Palmer used an email address alias "Terry Smith" to run the refinery and approve expenditure.
There is now speculation that he may have opened himself up to liability, if found to be a "shadow director".
FTI's report shows money being whisked away from the nickel refinery in years before it entered voluntary administration.
The inquiry has found that 'unsecured creditors', including former employees, should expect somewhere from zero to 52.31 cents in the dollar of the $73.9 million they are owed.
The probe also revealed that between August 2012 and June 2013, 60 vintage cars were purchased with funds from the QN bank account, marked down as a "major capital purchase".
The cars were sold to Mr Palmer for $5 million, but there is no record of the cash payment.
"A loan forgiveness transaction for $5 million was later recorded in the Mineralogy [another of Mr Palmer's companies] loan account on 30 June 2015," the report said.
Mr Palmer or someone else who "may have acted in the capacity of a director" made QN transfer $43 million to a number of entities - including $14.38 million to Palmer himself.
It also appears the QN purchased a major Gold Coast resort for $11.55 million in 2010, before selling it to Palmer for $7.9 million.