Nurses overloaded as union debate ramps up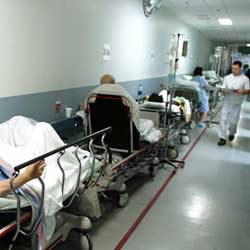 The South Australia nurses' union will meet with officials from the state's health board to talk about ongoing emergency ward over-crowding and the potential risks it poses to patients and staff.
Emergency wards at the Flinders Medical Centre and the Royal Adelaide Hospital are so full some reports say nurses are being forced to deal with patients spilling into corridors and the constant task of trying to find beds for those most in need.
In 2012 the South Australian government said it would move on every one of the 52 recommendations made in a review to reduce ramping by health specialist Dr Mark Monaghan. Now the Australian Nursing and Midwifery Federation say the recommendations are not yet in place, and workers may resort to industrial action if an agreement cannot be reached.
The Federation's Rob Bonner says the union will meet with its members before taking their opinions to the state authorities.
Bonner says, "The emergency department patients can't get into the acute beds at Flinders or Royal Adelaide because we've got those other people in beds they don't need to be in... this dispute has never been about a workload issue. It's about the environment in which those nurses are struggling to meet patients' care needs."
"There is no doubt nurses are suffering in terms of their health and safety through the current environment so I guess we would expect if these things are not addressed there will be an adverse effect on WorkCover claims," Bonner said.
The Salaried Medical Officers Association president David Pope says "we think this is a public safety issue. The public need to know that the Government are trying to treat doctors in this sort of way, trying to intrude on the care that doctors deliver to patients. If doctors are tired, then they can't make good decisions and if they make decisions which aren't in the best interests of the patient, that's going to potentially cause people to die or suffer avoidable harm."
South Australian Health Minister Jack Snelling said the department would of course be willing to talk: "This is about better patient outcomes, better care for patients and all we're doing is simply asking our senior specialists to make themselves available to work rosters in the same way more junior doctors, nurses and emergency department doctors do at the moment," he said.