Nurse banned for false reports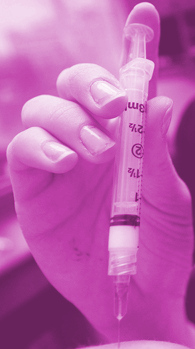 An Adelaide nurse has been found to have administered wrong the vaccines to children and doctored records.
South Australia's Civil and Administrative Tribunal has found the nurse's actions left children unprotected from deadly diseases.
Nurse Tracy Paterson - also known as Tracy Gray - posed as a doctor to prescribe herself weight loss medication, forged training certificates to make them appear current, and deleted or altered the records of 17 patients while she was working as a nurse.
She has been banned from providing health services for 15 years.
In one case, she administered a child with the IPV vaccine against diphtheria, tetanus, pertussis and polio, informed the Australian Childhood Immunisation Register (ACIR) that the vaccine had been given, but then incorrectly stated on clinic records that she had vaccinated the child with MMR for measles, mumps and rubella.
Ms Paterson then administered the IPV vaccine for a second time when the child returned, but not the MMR she initially claimed.
When questioned, Ms Paterson "falsified the records to cover up her own mistake", her judgement states.
"If the falsification had not been discovered, the child would have remained unprotected against the diseases that the MMR guards against.
"The child's parents would have been deceived into thinking that the child was properly immunised when that was not the case."
The investigation also uncovered two other cases in which children's records were altered to hide the fact they had not received the MMR vaccine.
She falsified records on several other occasions too, including falsely stating she had washed her hands before administering vaccines, and changing one record to say she had given a full flu vaccine when she only gave half the correct dosage.
Bizarrely, in 2015, she deleted the full medical records of all patients at one clinic with the same surname as her ex-husband.
"There is no explanation for the deletion of the records," the judgement said.
On four occasions, she used computers logged into by other staff to print herself prescriptions, and even used the computer and log-in of a locum practitioner to create a Medicare health care plan for herself.
She forged the practitioner's signature to validate the plan, underwent government-funded treatment and then deleted records of the plan.
"Everything suggests that [Ms Paterson] cannot be trusted," the judgement said.
"There is an overriding need to protect the public as well as the integrity of the profession."
Ms Paterson cannot apply for registration and is prohibited from providing any health service for a period of 15 years.