New quad rules in force
Print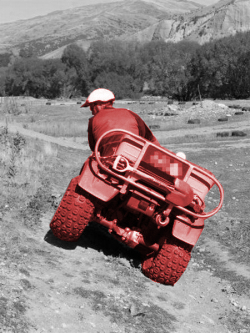 The ACCC's first stage quad bike safety measures are now mandatory.
All new and imported second hand quad bikes sold in Australia must now meet the first stage of the government's mandatory safety standard, which came into effect this week.
It means quad bikes must be tested for lateral static stability, display the angle at which the quad bike tips onto two wheels on a hang tag at the point of sale, and carry a roll over warning label on the quad bike. The owner's manual must also include roll over safety information.
Additionally, the quad bikes must be fitted with a spark arrester that conforms to the Australian or United States standard, and meet certain requirements of the United States or European quad bike safety standards.
These cover equipment such as brakes, clutch, throttle, tyres, drive train, handlebars and foot wells, maximum speed capabilities and the provision of safety information through warning labels and hang tags.
Over 150 people have died from incidents involving quad bikes since 2011, including 23 children. It is estimated that hundreds of people also present to hospital emergency departments each year as a result of quad bike related injuries.
There have already been 16 fatalities this year, double last year's toll.
Most quad bike accidents involve a vehicle rollover, which can result in victims dying from injuries associated with being crushed by the quad bike.
Additional requirements for new and second hand imported general use quad bikes will become mandatory in one year's time, which include the fitting or integration of operator protection devices and minimum stability requirements.