New gear for top soldiers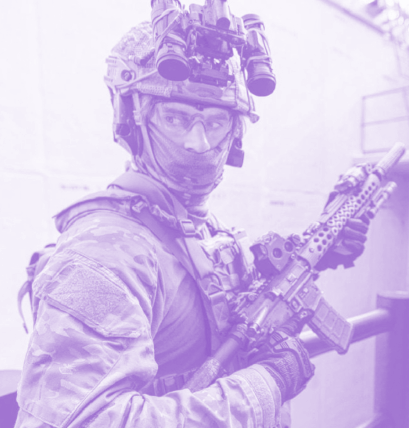 Australia is spending $3 billion on new weapons and body armour for special forces soldiers.
Posing alongside the high-tech military equipment this week, Prime Minister Scott Morrison laid out the fairly simple logic that Australia's elite soldiers need to be safe in order to keep Australians safe.
"This is about ensuring our special forces are on the leading edge of capability," he said.
"The threats are always there and the challenges are always there and we must always be prepared to face them — not just now but for the next 20 years."
The first phase of the spending program, dubbed Project Greyfin, includes $500 million for equipment for Australia's eight special forces units over the next four years.
The funding primarily cover equipment, including body armour, weapons, diving and parachuting equipment and roping and climbing systems. Some will also be spent on medical search and rescue, communications, and "human performance training and support".
It comes a few weeks after leading defence analyst Professor Hugh White from the Australian National University warned Australia needs to increase military spending, but also significantly change the style of its spending.
Professor White argues that the United States may no longer be a reliable ally, meaning Australia must have a very different view of itself, its military stances and engagements.
He details his views, including the potential for Australia to become a nuclear-armed nation, in this episode of the Conversations podcast.
Defence Minister Linda Reynolds says Project Greyfin is among the biggest Government investments in the Defence Force in decades.
"Our special forces, now more than ever, need to be ready and able to deploy on operations anywhere in the world, at short notice, and in very uncertain conditions," she said in a statement.
"This first stage of funding enables our special forces to engage with intelligence, science and technology and innovation organisations to ensure future threats and opportunities are assessed, to make sure we are delivering them the capability they need in the future."
The Government will spend 2 per cent of gross domestic product (GDP) on Defence by 2020-21, or around $50 billion.