Measles outbreak spreads
Print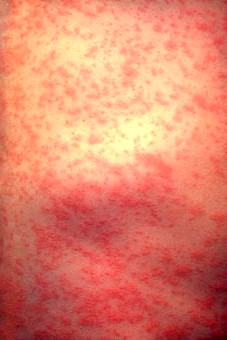 New South Wales is facing the spectre of a measles outbreak, with 16 cases confirmed in the Sydney's west.
A man has been infected through contact with an earlier case at Quakers Hill, and turned up at the Blue Mountains Hospital where he has now been isolated.
Vicky Sheppeard, director of communicable diseases with NSW Health, said the patient may have infected others while spending time in Lawson, Strathfield and Leichhardt.
"Unfortunately there probably still will be more cases to arise," Dr Sheppeard said.
"But the important thing about getting the message out is that if others do develop the symptoms, if they can isolate themselves rather than spread it further. That's the way that we are able to stop the outbreak."
Sydney's first major outbreak of measles in five years was recently sparked by a traveller who contracted it in Bali, and it has now been spread through western Sydney.
NSW Health says those infected range in age from newborn babies to 56 years of age.
"We haven't had a sustained outbreak of measles in New South Wales since 2012 so it is unusual to get so many cases following on, one after the other," Dr Sheppeard said.
"We did have a lot of introductions of measles from overseas this year and each time measles is introduced there is a risk that they'll come into contact with susceptible people.
"Once susceptible people catch measles in Australia then it can start to pass from person to person."