AusPost safety steps slammed
Print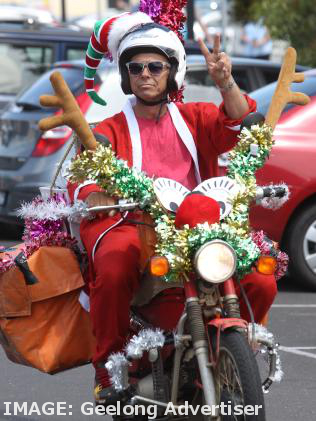 Residents of one Victorian town have told Australia Post what they think of safety regulations.
Torquay postie Cam McFarlane is known for decorating himself and his bike at festive times to deliver the town's mail.
But Australia Post has ordered Mr McFarlane remove his elaborate decorations, saying they breached safety protocols.
Residents have reacted angrily, describing the decorated postie bike as an "icon of Torquay".
Torquay locals set up a Facebook group - Cam the Postie brings so much more than just the mail - in protest.
Posts on the page have mourned the missing Christmas cheer.
"Mail delivery was drab and boring today. Cam's smile was missing. No decorations. Australia Post you have shot yourselves in the foot big time," one resident wrote.
Mr McFarlane had even visited locals schools to collect letters to Santa and ensure were delivered.
Australia Post responded on its Facebook page, saying "besides delivering mail, our main priority is staff safety".
"We love it when our people share the Christmas spirit, but safety is our highest priority and we expect them to adopt safe work practices," it said.
"We're very happy for Cam to apply some decorations as long as they don't obstruct his visions, pose any risk of becoming tangled in his wheels or compromise the handling of the bike."