ABCC on death row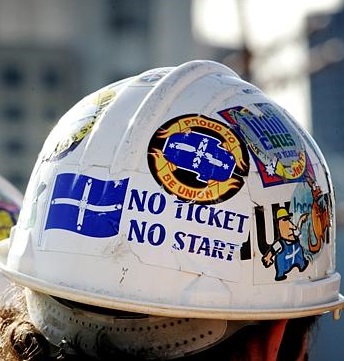 The Albanese Government is moving to scrap the Australian Building and Construction Commission (ABCC).
Australia's former Coalition government re-introduced the ABCC construction watchdog in 2016 following a double dissolution election on the issue.
The regulator was aimed at reducing illegal activity and corruption in the building sector, but has been seen as a targeted union-busting body by Labor, the Greens and the unions themselves.
The Construction, Forestry, Maritime, Mining and Energy Union has previously labelled the ABCC "a failed regulator that makes it easier for the developers from the big end of town to maximise their profits by ripping off the workers who build our cities and critical infrastructure".
Workplace Relations Minister Tony Burke says building code regulation changes will come into effect from Tuesday to wind back the ABCC's powers, ahead of legislation later in 2022 to abolish the body entirely.
"As of Tuesday, the ABCC, in its powers, will be pulled back to the bare legal minimum," Mr Burke said.
"A lot of what it's been doing can appropriately be done by another regulator.
"We will no longer be spending taxpayers' money determining what sticker someone's allowed to put on their helmet, whether or not a safety sign has to be pulled down because it's got a union logo in the bottom corner, or what flag might be flying at a building site.
"Those sorts of issues should never have been something for an official government regulator to be wasting taxpayers' money on, [and] as of Tuesday those offences are gone altogether."
Mr Burke was asked about whether rules on alcohol and drug testing on building sites will continue. He said the rules as they stand are "really weird".
"The threshold for when they apply and when they don't isn't based on a safety concern," the minister said.
"It's based on, one, whether you're in construction, and two, a formula of the extent of Commonwealth contribution relative to the value of the project, as though somehow that's a safety principle.
"These sorts of rules, to make sure that people are fit and ready for work, are just as important on a mining site as they are on a construction site."
Labor says it will move to defund the ABCC, but as a statutory authority, the ABCC's complete removal has to be legislated.
Innes Willox, chief executive of business lobby Ai Group, says abolishing the ABCC "is of great concern to businesses".
"It is a backwards step for the fight against bullying and intimidation and will add costs and delays to vital community infrastructure such as roads, hospitals and schools," he said.
"The building code is playing a vital role in ensuring that all participants in the construction industry comply with industrial laws and maintain high standards of work health and safety."